In het OSHO International Meditation Resort in Pune wordt deze opleiding iedere maand van de 4e t/m de 7e gehouden en onder de titel OSHO Meditation: In-depth and Facilitating aangeboden. Op de Certificaten van Deelname staat vermeld dat deze training ontworpen is door OSHO International,  een belangrijk punt voor de deelnemers.
Bij voldoende belangstelling -er zijn al een paar aanmeldingen- vindt er weer een opleiding plaats in Nederland door Garimo Ackermann. Als vaste medewerker heeft zij in Pune o.a. de OSHO Inner Skills for Work & Life cursussen ontwikkeld en is zij nauw betrokken bij de OSHO meditaties en de OSHO Meditation: In-depth and Facilitating opleidingen.
Meer: Opleiding Osho Meditatie Begeleider.
   Egmond aan Zee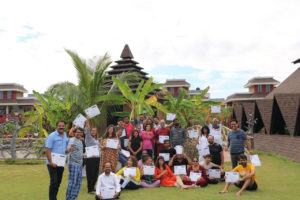 Gujarat. India
Meer: Foto's Osho Meditatie Begeleider Opleiding
Over de hele wereld is er veel belangstelling voor de OSHO Actieve Meditaties en ook om ze te leren begeleiden. De meditatie begeleider opleiding is alleen in 2019 al 11 keer in Pune gehouden, en verder:
• in maart in Cheliabinsk en Krasnodar, Rusland, Praag, Tsjechië, London, UK,
• in april in Gujarat, India, München, Duitsland, Warschau, Polen, Kazan, Rusland en Tokyo, Japan,
• in mei in Litouwen, Frankrijk, Egmond aan Zee, Nederland, Yaroslavl, Rusland,  Irkutsk, Siberië en Dallas, VS,
• in juni in Los Angeles, VS, Vancouver, Canada, St. Petersburg en Nizhny Novgorod, Rusland en Sao Paulo, Brazilië,
• in juli in Lesbos, Griekenland, Tel Aviv, Israel, Jekatarinenburg, Rusland, Florianopolis en Curitibá, Brazilië en Almati, Kazakhstan,
• in augustus in Mysore, India, OSHO Center, Noord-India, OSHO Festival, Rusland en Toupse, Krasnodar,
• in september in Lesbos, Griekenland, Zaragosa, Spanje, Japan en St. Petersburg, Rusland,
• in oktober in Orange County, Californië, VS, Novosibirsk, Rusland en Dallas, Texas, VS,
• in november in Gujarat, India.